: A "Khanjaghar" or a traditional large dinning hall is well furnished with wooden furniture welcome our guests and try to fulfill the mouth watering delicious food and feel the test of odisha.
: Dinners are served either in dinning hall or out side of the garden with bonfire accompanying with entertainment on demand.
:We try to serve classical odia food (pure organic) along with western cuisine .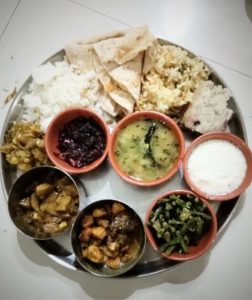 :Food is made of fresh local organic vegetable and for non- veg. (we use local fresh fish / Sea Fish / prawn/ Chicken/ Mutton/ Egg)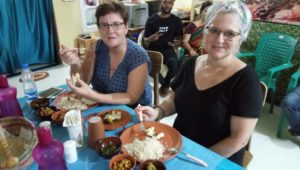 :We can offer our guest clay pot chicken or mutton / Bamboo chicken on demand during dinner
: We invite our guest for cooking class also ..
: Though it is free plastic zone – for drinking water we offer our guest electronic double filter water by clay or cupper pot / we have electronic water purified machine .
: We serve food to our guest clean banana leaf / sal plan leaf / clean utensil on hygienic point of view.
: Entertainment is provided by a renowned group of Gotipua dancer with real musical instruments by gurus (masters) and traditional costume